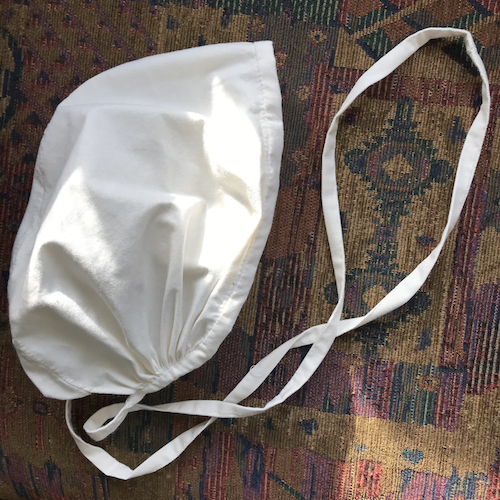 Following the instructions in the video by Morgan Donner, I made myself a St. Birgitta's coif. I am extremely new to sewing, so this is the most complicated thing I've made (outside of pincushions), and as such, I dispensed with the elaborate needle lace/netting that Morgan did to secure the two halves of the coif together — I just added a quarter inch (ish) to make up for the fact that I wasn't using a ribbon or netting to attach the two sides.
It was helpful to watch the entire video before actually making the thing, as Morgan had to make a correction to the shape of the curve. Bottom line up front: the pattern should look like a quarter circle.
It turned out just fine on the first attempt. It's a little baggy, but as I intend to grow out my hair, this should be fine in time. I made this in cotton, as that's what I have; when I get around to ordering some linen, I will make another one in light linen with linen thread so as to have a somewhat more accurate piece (though as the linen and thread won't be hand-spun and -woven, it will not be absolutely authentic).
It was fun, and I'm looking forward to doing something more ambitious, such as a dress!